Grab some tissues. This is going to be an emotional roller-coaster. I also recommend grabbing your fur-child(ren) and cuddling with them.

Cazic was our first dachshund. He was a shaded longhaired standard size dachshund. We adopted him from a breeder in Kentucky in May of 2009. Zach and I were so excited! We had been scoring the states of Kentucky, Indiana and Ohio for a reputable breeder with mini dachshunds. (Please no comments about adopting, we tried and it didn't work out.) We picked out our little guy from some pictures she emailed to us. We decided to go meet him - at only 6 weeks old we couldn't take him home yet. We fell in love instantly. He wouldn't leave my lap for a second! I looked at Zach and said... this is our puppy. We need him.
Caz is on the left, his twin sister on the right.
We brought him home 5 weeks later - at 10 weeks old - once our apartment was puppy proofed and ready. I didn't know what to do! He only weighed 3 pounds 4 oz. He was so tiny.
First day home and already stealing my pillow!
The first year was so much fun. He was the happiest puppy I'd ever met. He loved going outside to play, chasing me around, playing with other small dogs and going for walks. His favorite toy was a stuffed soccer ball.
He had the biggest ears and longest tongue ever too. He was irresistible! We nicknamed him Lick Monster because he seemed to be licking something all the time. haha.
At one year and 6 months old, we realized Caz wasn't a mini. He weighed in at 15 pounds and was in great shape! He was the same height and size as his favorite dog park friend Max, a male Pomeranian show dog.
One of many dog park friends.






He loved to travel and see his fur-family. We would take him to Ohio to see my family and Illinois to see Zach's family. Both had pets - dogs, cats, hamsters, fish. He loved going to visit and play!
Cazic (left), Manny (middle), Chelsea (right)
On our way to the dog park!
His favorite time of year was Winter. Being a longhaired dachshund, he was always warm. He loved digging in the snow and sometimes burying himself.
He kept walking until he got stuck. lol!
We didn't think much about his size until he almost hit two years old. We were sitting at home when Caz wasn't acting normal. I went to pick him up and noticed he was super hot. I was instantly nervous. I started checking his body for possible causes when I found the red spots. It looked like he had a severe allergic reaction or chicken pox - and they had popped up in a matter of minutes. He was severely bruised all over his body. We rushed him to a 24/7 emergency vet for help.
In November of 2011, Cazic was diagnosed with IMT - immune mediated thrombocytopenia. This is an extremely rare (possibly genetic) disease that both dogs and humans can have. Basically, his red cells weren't getting oxygen because his immune system was attacking his own cells and killing them. He was dying, and needed help fast. Caz survived the impossible - two full blood transfusions and a full week at the hospital. The bills were so expensive - we could barely afford them even with help.
Caz being a stubborn little guy made it through the worst case of IMT ever seen in a dog. He had the best possible vet care, vets and techs who loved him and we never left the hospital (unless they kicked us out, which happened twice).
He was given a strict regime of bed rest and medication four times a day. He was such a brave little guy and stuck with us. He had to re-learn how to walk, run and play. He no longer could go outside unless I carried him, couldn't get shots, use flea meds or be around other dog. It was a huge adjustment for all of us. Thankfully, we had Sera - his bestest cat friend - to help keep him company.
She never left his side and even had to go to the vet with us for his blood recheck every two weeks. We finally got his IMT under control. He spent so much time curled up in blankets. His spirit never broke even with the heavy medication.
He was still super silly!
He was doing so well for about a year, then he relapsed again for about two months - another transfusion, more steroids, more meds.. The cycle never truly ended. We got to spend two wonderful years with him before in February of 2013, he relapsed again. This time was different - his kidneys, heart and intestines shut down. He couldn't breath well, he was seizing and could barely move.
We lost the battle on February 14, 2013. He passed peacefully in my arms wrapped up in his favorite blanket on the way to the vet. One year ago today. I'll never ever forget his sweet face, big heart, big ears, soft fur and long tongue.
The last picture taken of Caz before he passed. Also his last time traveling.
Two of my dear friends, Jason and Marti Sharp, felt my pain and made me this amazing gift. Marti is an artist with a huge heart - especially for animals. She decided to recreate my favorite picture of me and Caz in colored pencil.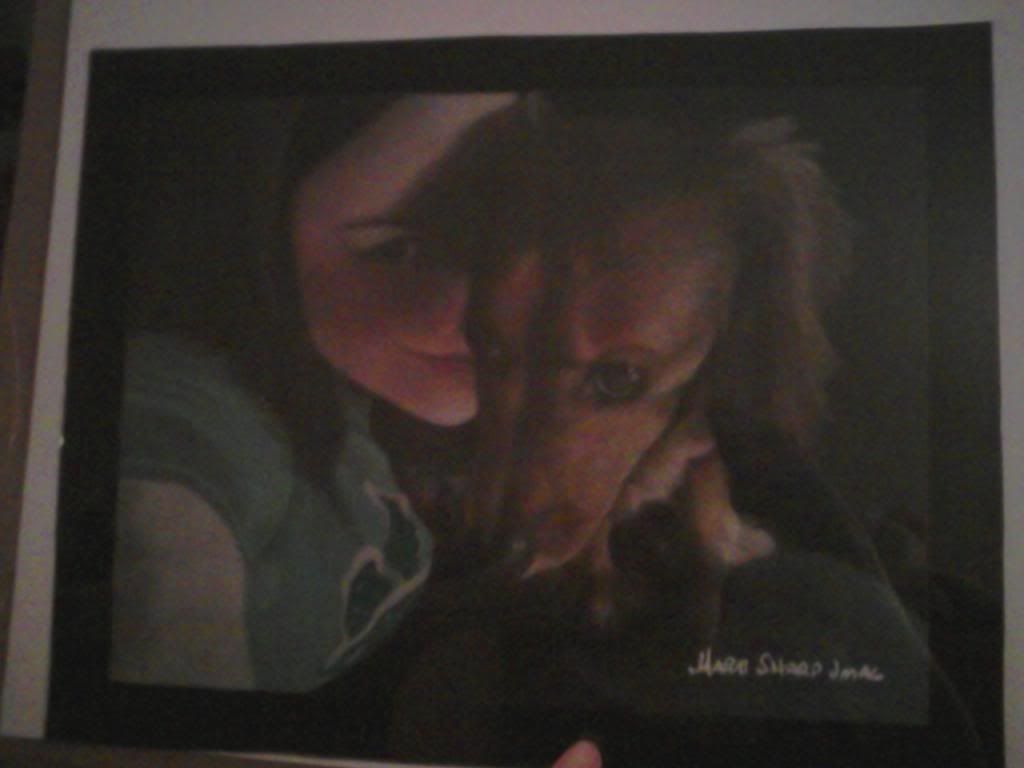 Sorry for the terrible photo quality.
I couldn't have asked for a better gift. This picture helped me get through some of the toughest weeks of my life. I'm so thankful for every single day we had with Cazic. He was truly a gift from God.
IMT is literally a silent killer. Watch your pets for any behavioral changes, bruising, red spots, swelling, gum color (should be dark pink, not pale pink), and energy level. If their belly looks like it's dirty, but a bath won't take it off, have your dog's blood cell count checked. Early detection is very important.
Learn more about IMT here
.
If you've read this entire post, thank you. I hope this helps someone's pet someday and they can catch the IMT early. Thank you everyone for the support in the past - especially Zach, our families, Jason and Marti, Lois, the vets in Kentucky and Sera our cat, and of course my blog friends. You're all amazing people and animals!
Enjoy the memory of your lost loved ones today.
Help save a pet's life
by donating to the DSRF and their medical bills. Happy Valentine's Day!